School Olympiad Launched at Tbilisi #51 Public School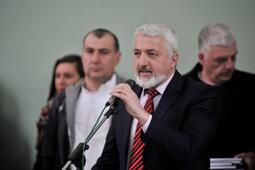 Problems facing physical education of students has become one of the priority issues of the Georgian government planning a number of events in order to pay special attention to the students' active involvement in mass sport activities organized at the public schools and other educational institutions countrywide. Tbilisi # 51 Public School was the first that reacted to this initiative, where on 24th February school Olympiad was solemnly launched in presence of one of the supporters of the idea - Georgian National Olympic Committee.
Opening of the School Olympiad was attended by the Minister of Education and Science of Georgia, Vice Premier A. Jejelava, Minister of Sport and Youth Affairs of Georgia T. Khechikashvili, First Vice President of the Georgian NOC E. Berishvili and Secretary General E. Zenaishvili, President of the Georgian Weightlifting Federation and Olympians Club, three-time Olympic champion Kakhi Kakhiashvili and other honorary guests.
E. Berishvili wished success to the participants of school Olympiad and handed over to the school library sport publications issued by Georgian NOC.